Stonehaven gets Sepa flood warning system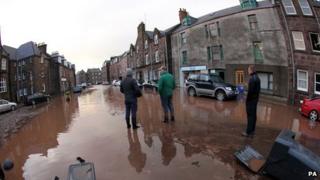 A new warning system to alert Stonehaven residents to flooding dangers has been launched.
Dozens of homes were evacuated, and properties damaged, after the River Carron burst its banks in December of last year.
The new system will be operated by the Scottish Environment Protection Agency.
The system takes data from a variety of sources, including Met Office forecasts and water level information.
The aim is that those who sign up to receive alerts will have extra time to take measures to protect themselves.