Kirkwall fishing boat Ailsa Jane stuck on wreck of Busy Bee in Orkney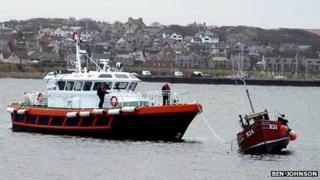 A fishing boat has run aground on a wreck in Kirkwall Bay in Orkney.
The Ailsa Jane was stuck fast on the wreck of the Busy Bee, a steam drifter which caught fire and sank in the bay in October 1924.
Kirkwall lifeboat was called out to assist on Thursday morning.
The pilot boat John Rae was towing Ailsa Jane off the wreck.