Aberdeen baby attack man Nathan Allen avoids jail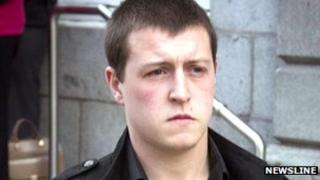 A man convicted of attacking and injuring a newborn baby in Aberdeen has avoided a jail sentence.
Nathan Allen, 21, was earlier convicted of assaulting the three-week-old girl.
The infant suffered a brain haemorrhage, a broken ankle and bruising in November last year.
At Aberdeen Sheriff Court, Allen was put on a three-year supervision order and ordered to carry out 280 hours of unpaid work in the community.
NSPCC Scotland said it believed Allen should have gone to prison.
Sheriff Annella Cowan said she had given the case a lot of thought and her initial reaction was to send him to jail.
She said: "Your behaviour was unpardonable."
Allen had denied harming the child and claimed she had been injured as a result of an accident.
However, a jury convicted him of endangering the child's life by assaulting her.
Sheriff Cowan said she was concerned about Allen's attitude, and that he appeared to be more concerned about what would happen to him than anything else.
She said: "In one view that makes you an extremely dangerous person."
'Defenceless baby'
Defence lawyer Neil McRobert said a psychological report previously ordered by the court had noted that Allen was immature for his age.
He said his client had a good employment record and had started working as a joiner with his grandfather's firm when he left school and was now working for an agency.
Matt Forde, head of NSPCC Scotland, said: "We believe the defendant in this case should have gone to prison as there was a high level of culpability which should have been reflected in the sentence.
"This was a horrible catalogue of injuries inflicted on a defenceless baby and could have had very serious implications.
"There is no place in society for this kind of callous treatment."