Orkney cruise liner industry 'worth more than £3m'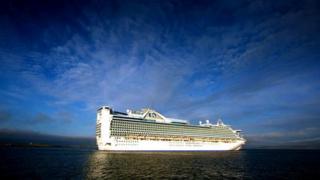 Orkney's cruise liner industry is worth more than £3m annually to the local economy, according to a council survey.
The study ran between May and September last year and targeted 10 different ships, with 2,500 passengers and more than 600 crew members taking part.
It showed 97% said that their visit met or exceeded their expectations, with 90% saying they would recommend Orkney as a tourist destination.
Each cruise passenger spent an average of about £46 while ashore.
James Stockan, chairman of the council's development and infrastructure committee, said: "The overall economic gain to Orkney of almost £3.1m, through harbour dues, passenger tours, and spending at tourist sites and on the high street, is a fantastic achievement in the current hard financial times.
"We should all feel proud that the county continues to attract cruise ships in today's competitive climate, and that we send people away with a smile on their face and good words for the county - and in many cases, a determination to return."
In 2010, Kirkwall was named as the UK's best cruise ship port of call at the CruiseCritic.co.uk awards.