Aberdeen Treetops remedial work after sewage leaks into Johnston Gardens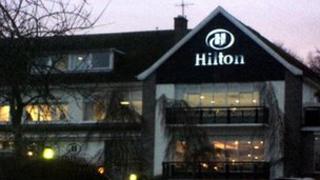 Remedial work is being carried out after raw sewage leaked from an Aberdeen hotel into a nearby burn and park.
The incident at the Hilton Treetops on Springfield Road led to complaints from local residents about conditions at the Johnston Gardens attraction.
Hilton Hotels said the blockage was caused by heavy rain.
The Scottish Environment Protection Agency (Sepa) said the blockage was quickly cleared.
It instructed the hotel's owners to carry out remedial work to ensure no sewage residue is left in the burn.
Sepa said its officers will continue to monitor the situation to ensure the impact on the burn is minimised.