'Dambusters' back to RAF Lossiemouth after last tour before reforming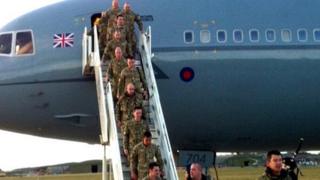 The RAF's legendary "Dambusters" squadron has returned to its home base of RAF Lossiemouth after completing a final operational tour in Afghanistan.
617 Squadron will be disbanded in April when its Tornado aircraft are phased out.
It is due to be reformed in 2016 to fly the F-35B Lightning II joint strike fighter.
Created during World War II, 617 Squadron carried out the "bouncing bomb" raid to destroy dams in Germany.
The reformed squadron will be stationed at RAF Marham in Norfolk.
The disbandment opens the way for the move of Typhoon squadrons from Leuchars, in Fife, to Lossiemouth, in Moray.
The 70th anniversary of the Dambusters raid was marked in May last year.
It was carried out by 133 airmen, flying 19 Lancaster bombers armed with the so-called bouncing bombs designed by Sir Barnes Wallis.
Out of 19 bombers, eight were shot down. Three men were captured and 53 were killed.