Speed cameras planned for seven A9 zones north of Perth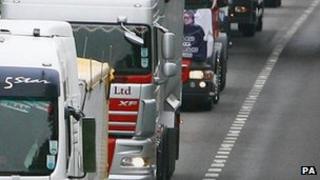 Speed cameras on the A9 Perth to Inverness road are to be confined to single-carriageway sections, Transport Scotland has confirmed.
Seven average speed camera system zones are planned north of Perth.
The A9 Safety Group has said there are complex issues involved in improving the route.
The government announced plans to install cameras as an interim safety measure until the road is upgraded to a dual carriageway by 2025.
Ministers had originally said they would be in place between Inverness and Dunblane by this summer but they will now not be operational until October.
A9 Safety Group chairman Stewart Leggett said: "Our strategy is comprehensive and well considered and we would like to hear about the concerns of road users.
"Plans for the average speed camera system are an important part of this and we are moving on from the design phase to the introduction of the equipment itself. We expect it to be operational in October.
"We are also seeing a large on-going programme of vegetation clearance to improve sight lines and expect new safety barriers to be installed at the Broxden roundabout next month."
A Transport Scotland spokesman said: "£137m has been spent on safety and maintenance on the A9 in the last five years, including work to improve junctions as well as overtaking opportunities, and over the next two years we expect to spend £18m
He added: "We are working extremely hard to improve safety on the A9 ahead of the £3bn dualling programme, which is one of the largest and most complex transport projects in Scotland's history, and we are the first government to commit to taking this forward."