Parents angry over Aberdeen's private Hamilton School closure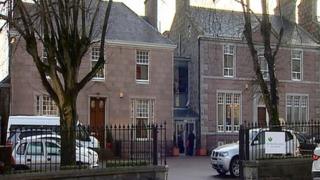 Parents of children at a private school in Aberdeen have expressed anger at the decision to close it down after inspectors decided pupils were unsafe.
A meeting was held for parents of pupils at the Hamilton school which shut its doors on Friday on the orders of the Scottish government.
About 300 parents and children turned up at the meeting organised by Aberdeen City Council.
Many were shocked and angry at the decision to close the school down.
The move came after education inspectors delivered a damning report, saying they were not confident children were "safe and well cared for".
A mothballed primary school will be opened up by the city council on Monday to cope with up to 125 displaced Hamilton children.
A sheriff will decide next week if the school's nursery should close too.
But BBC Scotland has seen a letter sent to parents of children at the nursery which said it was already "permanently closed".
The letter said: "I fully understand that this will have a profound effect on every family and that there are very few childcare alternatives for you.
"However I have to trust my own judgement and and make a decision which is in the best interests of everyone. I can assure you that my decision has not been an easy one to make."
The letter concluded: "I thank you for your support and the many kind thoughts expressed, written and mailed. The Hamilton School has many more supporters than detractors, and there are so many happy memories."
A joint statement from the Care Inspectorate and Education Scotland released on Saturday said: "Due to the serious concerns about health, safety and welfare at the Hamilton School Nursery, and the closure of the school, we have acted urgently to safeguard children.
"The Care Inspectorate applied for a cancellation order in the Sheriff Court under Section 65 of the Public Services Reform (Scotland) Act and the court has set a hearing for Wednesday.
"We understand that the Hamilton School Nursery has now informed parents that it intends to permanently close and we are currently trying to contact the provider to clarify this.
"We understand this is a very difficult time for parents and young people who usually attend the Hamilton School and Nursery - but we insist that childcare is safe and appropriate."
The Care Inspectorate had previously issued an improvement notice which identified concerns around life-saving medication, nutrition, staffing and leadership at the nursery.
Full report
The inspectorate said its full report was currently being finalised, and options were being examined to allow it to be published "as quickly as possible so parents will understand more fully the basis of our serious concerns."
The Education Scotland inspector's report, which has been published, said the Hamilton School had an "outdated and punitive approach to managing children's behaviour".
It also said most teaching staff did not have the necessary teaching qualifications, skills and experience to support children's learning and to ensure they were making appropriate progress.
The school had "no clear leadership and management structure", they said.
A Hamilton School spokesman said an appeal was "under active consideration".
A Scottish government spokesman said: "The safety, wellbeing and education of children must be our absolute priority.
"There is very clear evidence from the HM Inspectors report that there have been serious failings in the school.
"They have said it is simply not safe for children to go there and so we have had no alternative but to order the school closed immediately."
The spokesman said the purpose of the meeting was for parents to consider and discuss alternative arrangements for their children with the council, including the availability of Braeside School for primary children.