Disused school reopens for The Hamilton School pupils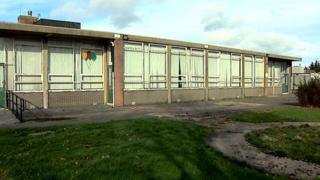 A disused primary school has opened in Aberdeen to accommodate pupils from a private school which was ordered to close on Friday.
Inspectors said they were not confident that pupils at The Hamilton School were "safe and well cared for".
Aberdeen City Council said it had worked over the weekend to prepare Braeside School to enable it to take the pupils.
A decision was taken over the weekend not to reopen the school's nursery.
The Scottish government ordered an immediate inspection of The Hamilton School earlier this month after complaints from parents and staff about the nursery prompted a police investigation.
On Friday minsters ordered that the school be removed from the Register of Independent Schools, which meant that as of 22 February it could no longer operate as a school.
A joint statement from Aberdeen City Council, Education Scotland and the Care Inspectorate said fully qualified teachers will staff Braeside School, including a very experienced head teacher, and that educational psychology services will also be on hand.
Continuity of teaching staff would be maintained as far as possible, to ensure stability for the children.
Bill Maxwell, chief executive of Education Scotland, said: "I want to assure all those affected that the closure of the school was necessary to ensure the safety and welfare of the children attending there.
"We will continue to work with the Scottish government, the Care Inspectorate and Aberdeen City Council to provide support and assistance during this difficult time."
The Care Inspectorate served an improvement notice on The Hamilton School Nursery, which is covered by separate legislation, earlier this month, requiring urgent changes around life-saving medication, nutrition and staffing.
It has applied to Aberdeen Sheriff Court seeking suspension of the nursery's registration and said a hearing had been fixed for Wednesday.
A nursery spokesman said it would not be opening and parents had been informed.
Education Scotland and the Care Inspectorate said they were "rapidly" working with Aberdeen City Council to look at alternative provisions.
Annette Bruton, chief executive of the Care Inspectorate, said: "Senior staff from the Care Inspectorate are in Aberdeen to meet with parents and families whose children attended the nursery and our helpline will be open on Monday on 0845 6009527.
"We stand ready to support other nurseries and childminders in Aberdeen seeking to expand, where it is safe to do so."
She added: "Our urgent application to the court last Friday to close the nursery was necessary to protect the health, safety and wellbeing of young children who were not safe.
"The decision of the provider to close the nursery is, we believe - given the evidence we hold - in the best interests of children, although we know this makes it a very difficult time for parents and families."
Representatives from Education Scotland and the Care Inspectorate will be available at the Hilton Aberdeen Treetops Hotel on Springfield Road in Aberdeen to meet parents and carers affected by the school and nursery closure until early evening on Monday.
The council has also set up a helpline which can be contacted on 01224 814828.
On Friday, The Hamilton School said it was stunned by the decision to close the school and was actively considering an appeal.
Angry parents
On Saturday about 300 parents and children turned up at a meeting organised by Aberdeen City Council.
Many were shocked and angry at the decision to close the school down.
The Care Inspectorate had previously issued an improvement notice which identified concerns around life-saving medication, nutrition, staffing and leadership at the nursery.
The inspectorate said its full report was currently being finalised, and options were being examined to allow it to be published "as quickly as possible so parents will understand more fully the basis of our serious concerns."
The Education Scotland inspector's report, which has been published, said the Hamilton School had an "outdated and punitive approach to managing children's behaviour".
It also said most teaching staff did not have the necessary teaching qualifications, skills and experience to support children's learning and to ensure they were making appropriate progress.
The school had "no clear leadership and management structure", they said.