Hamilton School inquiry: Talks with private nursery company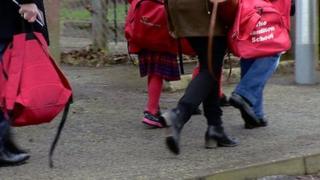 The Care Inspectorate is in discussions with a private company about taking over the running of the closed Hamilton School nursery in Aberdeen.
The nursery closed after a critical report by inspectors.
The Care Inspectorate said in a letter to parents that it "does not appear to be a possibility" that the council could run the nursery.
It said having a private company running the nursery would have to be done with school's co-operation.
The letter also says formal notification has been received that registration of The Hamilton School Nursery has been cancelled.
The Care Inspectorate's chief executive said inspectors acted quickly when allegations surrounding the standard of care offered to children at the private school came to light.
The Hamilton School and its nursery closed and two women, aged 65 and 25, have been charged as part of the investigation.
The Care Inspectorate has issued a 14-point list of "immediate concerns" about the nursery.
Treatment concern
Chief executive Annette Bruton said "tough" and "fast" action was taken.
She said: "I think our inspectors have paid very very careful attention in this case.
"In this case we believe the areas of concern are so significant that we really needed to move to have this nursery closed."
Former Hamilton School staff member Melissa Chalmers, who contacted authorities with concerns, told BBC Scotland: "I was concerned about the treatment of children with additional support needs."
A decision was taken over the weekend not to reopen the Hamilton School nursery, after the school itself was ordered to be closed.
The Care Inspectorate said on Monday it had decided to make its nursery inspection concerns public as soon as possible.
It said issues at the nursery included concerns over medication, support for children with additional needs, staff turnover, and leadership.
The disused Braeside School has been opened to accommodate pupils from the private school.