Firefighters control woodland blaze near Stonehaven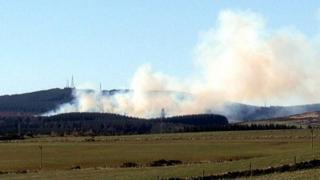 Firefighters have said a woodland blaze in Aberdeenshire is under control.
The fire - which involved burning heather and threatened pine trees - was at Craigneil Hill at the Rickarton Estate near Stonehaven and was reported on Monday afternoon.
The Scottish Fire and Rescue Service said it had more than 10 appliances at the scene, as well as specialist units.
More than 70 firefighters were involved in the operation.
Have you taken pictures or film of this incident? Send your images to the BBC Scotland news website at newsonlinescotland@bbc.co.uk
Please ensure when filming or photographing an incident that you make your safety and the safety of others a priority.
If you submit an image, you do so in accordance with the BBC's Terms and Conditions.