Graeme Reid named as Peterhead harbour taxi plunge victim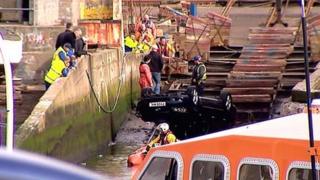 A man who died after the taxi he was driving entered the water at Peterhead harbour has been named.
Graeme Reid, 42, from the town, died when a Hyundai Sonata overturned after it landed in the water on Monday morning.
It was later removed from the water and winched ashore.
Passing motorist Gavin Sutherland was treated for the effects of the cold by the Scottish Ambulance Service after jumping into the water to try and help.