Firefighters contain large woodland fire near Inverness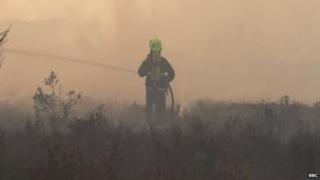 A large woodland fire threatening properties on the outskirts of Inverness has been brought under control.
The fire is believed to have started in Bogbain Wood in the Milton of Leys area of the city at about 14:50 on Friday afternoon.
At its height, eight fire engines and 40 firefighters were at the scene.
Police had earlier advised people to stay indoors because of the large amount of smoke from the fire.
A spokeswoman for Scottish Fire and Rescue said: "All residents who left their properties earlier this afternoon can now return home and there is no longer a request for local residents to stay indoors."
An investigation into the cause of the fire has begun.