Mother of burnt boy Preston Flores praises medical staff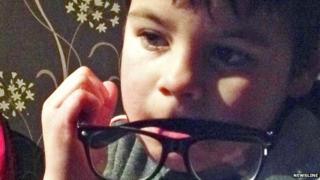 The mother of a seven-year-old boy who was badly burned in an incident in Aberdeen has thanked the medical staff who have been caring for him.
Preston Flores remains in a critical condition after suffering burns to much of his body on Friday.
The incident, in Bedford Avenue, is thought to have involved petrol.
His mother Luisza said: "We are very grateful for everything that has been done to help Preston and his family at this extremely difficult time."
She added: "On behalf of us all I want to thank the medical staff and the emergency services for all they are doing to help us.
"We are also very appreciative of the support of our friends and the local Bedford community as well as the wider public.
"We thank everyone for their help in our time of need and would kindly request that we are now allowed our privacy to deal with this as a family ourselves."
Preston was taken to the Royal Aberdeen Children's Hospital before later being transferred to the intensive therapy unit at the Royal Hospital for Sick Children in Edinburgh.
Police said there was "no evidence of any deliberate act".
Eye witnesses reported seeing the boy running between two blocks of flats with flames covering much of his clothes.
They said the flames covered him from his neck to his legs and his clothes had melted into his skin.
The incident happened at about 14:00 on Friday.
Police said information from local residents that the incident may have involved petrol from a council van was "forming part of the investigation".