Sumburgh Airport rescue slipway changes due after Super Puma crash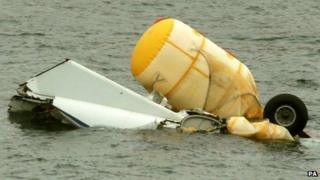 Work to modify a water rescue slipway at Shetland's Sumburgh Airport is to start soon, its operators have said.
Highlands and Islands Airports has been criticised for failing to carry out the work eight months after a Super Puma crash in which four people died.
An official investigation had called for the slipway to be modified to the west of the airport so as fast rescue craft can be launched in all tides.
The work is due to be finished by September.
However the Unite union said the work should have been carried out by now.
'Extremely hazardous'
HIAL said: "This is a complex engineering project not least because it requires detailed underwater surveying of the surrounding area.
"This is heavily dependent on weather conditions and divers can only access the site when weather conditions are favourable.
"With conditions in recent months proving extremely hazardous, the pace of this project has essentially been determined by concern for their safety."
Four people died when the Super Puma helicopter crashed on approach to Sumburgh Airport in August last year.
Review call
An interim Air Accidents Investigation Branch (AAIB) investigation called for a review of rescue operations in the water surrounding Sumburgh Airport.
A number of lifeboats and helicopters were sent to the scene, but the report said one rescue boat supposed to leave from a slipway to the west of the airport was delayed due to tidal conditions and instead had to leave from the south of the airport.
It took almost an hour to reach the crash scene.
There were 18 people on board the helicopter at the time.
Sarah Darnley, 45, from Elgin, Gary McCrossan, 59, from Inverness, Duncan Munro, 46, from Bishop Auckland, and George Allison, 57, from Winchester, lost their lives in the incident.