Garden gnomes appeal: Fresh picture issued over Aberdeenshire find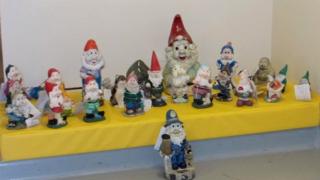 Police trying to reunite garden gnomes recovered in Aberdeenshire with their owners have issued a picture of those still unclaimed.
A total of 33 gnomes and garden ornaments were recovered last month.
A Police Scotland spokesperson said: "A number of the recovered gnomes are still to be reunited with their owners. If any belong to you, call us on 101."
Two 18-year-old men have been charged and will be reported to the procurator fiscal.