Hundreds take part in Shetland rural schools protest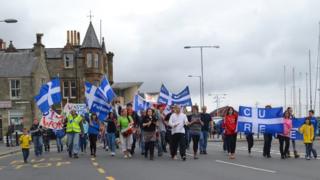 About 600 people have marched through the centre of Lerwick in a bid to save rural schools across Shetland.
The council is proposing to reduce the size of junior high schools and to close primary schools in the north mainland.
Saturday's march precedes the Shetland Islands Council meeting on Monday to decide what to do.
The campaign group Communities United for Rural Education (Cure) is involved in the protest.
Cure secretary Gordon Thomson said: "I think the message today is that people really value their rural schools and want to see them supported and want the council to back them - at least from secondary one to secondary three level, if not secondary one to four.
"They want rural primaries to keep going as well."
But the council argues the current model of junior high schools does not fit the new Curriculum for Excellence.
Shetland Council leader Gary Robinson said the island authority "spends £3,000 more per secondary pupil than the rest of Scotland and it simply can't afford to do that anymore".