Ewan Hardie jailed for Newburgh and Peterhead armed robberies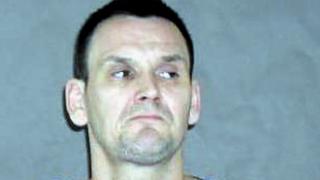 An armed robber who carried out two raids in the north east of Scotland shortly after his early release from prison has been jailed.
Ewan Hardie, 42, admitted targeting a shop in Peterhead armed with a knife and then Newburgh Post Office the next day, armed with a piece of wood, in early February.
He escaped with money both times.
Hardie was jailed for four years and three months at the High Court in Edinburgh.
Legal highs
Judge Lady Scott told him: "This was a stupid, desperate and dangerous course of conduct."
Defence solicitor advocate Shahid Latif said Hardie had ingested "legal highs" in the period leading up to the offences.
He said: "He apologises without reservation to all those individuals who have been affected by the events."
Hardie had been jailed for 16 months for assault and housebreaking last year. He was released in January.