Aberdeen to be home for new oil and gas agency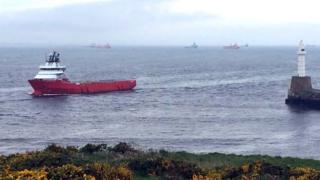 A new agency aimed at increasing collaboration across the oil and gas industry is to be based in Aberdeen.
The independent Oil and Gas Authority body is being set up after a recent review of the sector carried out by businessman Sir Ian Wood.
The search for a chief executive for the new agency will begin next week.
Chief Secretary to the Treasury Danny Alexander made the agency announcement in Aberdeen, which is regarded as Europe's oil capital.
The Oil and Gas Authority will be designed to encourage economic production in the UK and provide sustainable long-term support for the industry.
Mr Alexander told the Oil and Gas UK annual conference: "It is my view that it should be located at the heart of the UK's oil and gas industry. So I can tell you that it will be based right here - in Aberdeen."
A Scottish government spokesman said: "The Scottish government has made clear from the outset that Aberdeen, the energy capital of Europe, is the only conceivable location for the new regulator to be headquartered."