Aberdeen's former St Nicholas House council HQ demolition resuming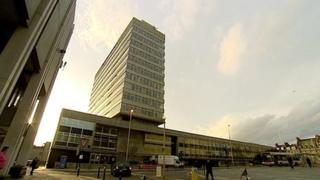 The final stage of demolition work on the former Aberdeen City Council headquarters is set to get under way.
Work had been due to bring down what remains of St Nicholas House earlier this month, but was postponed.
Two 'nibbler' machines will be used to remove what remains of the Broad Street and Flourmill Lane elevations.
Broad Street will be closed between Union Street and Upperkirkgate from 19:00 until 06:00 each day until Wednesday.
Muse Developments wants to create offices, shops, restaurants and a hotel on the site as part of a £107m plan.
In 2011, more than 1,000 council staff vacated the 14-storey St Nicholas House building, erected in 1968, for the newly-refurbished Marischal College building.