Plank of oak discovery in Orkney investigated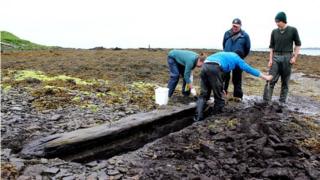 The discovery of a submerged plank of oak that could be thousands of years old is being investigated in Orkney.
The 3m-long plank has been discovered in peat on the shoreline of the Bay of Ireland in Stenness and could be important evidence of local native oak.
Now the process is under way to date it and identify where it came from.
It will be stored in salt water to preserve it as further studies are carried out.
Scott Timpany, from the Orkney Research Centre for Archaeology (Orca), told BBC Radio Orkney: "It's all willow here, to have a massive oak plank is unusual.
"It would be the first evidence of oak, in terms of waterlogged wood, we've got evidence in pollen records.
"It's really important, if it's from Orkney."