Minister does not commit to helicopter safety inquiry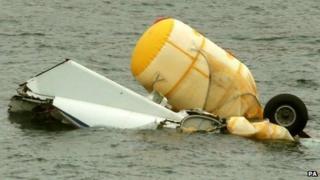 UK government transport minister Stephen Hammond has refused to commit to a full public inquiry into offshore helicopter safety.
Earlier this week Westminster's Transport Select Committee published a report calling for an inquiry.
In response to a question from Aberdeen North Labour MP Frank Doran, Mr Hammond said he would consider the report.
Mr Doran asked the minister to focus on the section dealing with the survivors of August's fatal crash off Shetland.
He said the minister would understand why workers and their families supported calls for a public inquiry.
The report follows the 2013 crash of a Super Puma helicopter near Sumburgh Airport in Shetland.
Four passengers were killed when the helicopter ditched into the North Sea.
The accident was the fourth of its kind in five years.
Safety briefings
MPs highlighted how the Air Accidents Investigation Branch (AAIB) investigation into the Sumburgh crash uncovered a number of serious issues.
In particular, AAIB found pre-flight safety briefings did not accurately explain how to use the type of emergency breathing system supplied on the helicopter.
Concerns were also expressed about a "macho bullying culture" within the oil and gas industry, including workers who expressed safety concerns being told they should leave their jobs.
On releasing its report, Transport committee chairwoman Louise Ellman called for a full examination into the role of the Civil Aviation Authority (CAA).
She said: "Despite work by the CAA, serious questions remain unanswered about offshore helicopter safety in the competitive commercial environment of the North Sea.
"We fear a creeping complacency may be affecting safety standards."
She added: "It is appalling that it took a fatal accident in such circumstances before inadequacies in safety briefing were identified."
'Not unexpected'
Mr Hammond said the government was carefully considering its response to the select committee's report.
He said the organisations involved needed time to work through its recommendations and that the industry's concerns were addressed.
He said the government was closely monitoring the effectiveness Civil Aviation Authority and the industry in implementing the safety improvement measures.
The RMT union said it was disappointed but it was not unexpected from this government which has made it clear it wants to take a light regulatory approach.