Susan Gale, 56, from Alford convicted of neglecting horses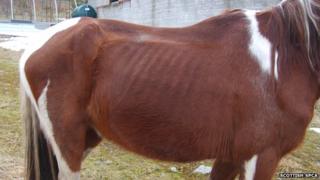 An Aberdeenshire woman has been convicted of neglecting three horses, two of which later had to be put down.
At Aberdeen Sheriff Court, Susan Gale, 56, of Alford, was given a two-year ban on keeping horses and a 90-hour community payback order.
At an earlier appearance, Gale had pled guilty to failing to provide adequate nutrition and veterinary attention for the horses.
The case followed an investigation by the Scottish SPCA.
After the case, Scottish SPCA senior inspector Alison Simpson said that during a visit to Gale's premises she became "immediately concerned" for the welfare of a five-year-old stallion called Oddie as he was "extremely thin, with all bones visible".
A second horse - a 10 to 12-year-old black mare named May - was also found to be very underweight and had little co-ordination of her back legs due to a severe form of ataxia, a neurological disorder affecting balance. She was also suffering from a lice infestation.
A third horse - an eight-year-old bay mare named April - was also found to be thin.
'Heart murmurs'
Ms Simpson said: "There were no medical issues identified to explain the poor body conditions of the horses, therefore it was clear this was due to a chronic lack of feed over a period of a few months.
"Both April and May were suffering from serious heart murmurs and, after six months in our care, April had a severe heart attack.
"Tragically, she would not have been able to recover and the vet had to make the kindest decision to put her to sleep.
"May's heart murmur was affecting her quality of life and she was regularly losing balance and falling over.
"Sadly, the vet decided the most humane decision was also to put her to sleep.
"Thankfully, after prolonged rehabilitation, Oddie made a tremendous recovery and we have since been able to find him the loving new home he deserves."