Fire at historic Bon Accord Baths in Aberdeen 'suspicious'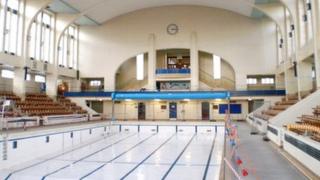 A fire at Aberdeen's historic Bon Accord Baths, which closed in 2008, is being treated as suspicious.
The fire broke out at about 21:00 on Thursday. Two fire engines were called out. Police want to trace three youths.
Aberdeen City Council later said the fire, set in the shallow end of the pool, did not cause excessive damage.
Campaigners have been trying to reopen the art deco baths on Justice Mill Lane, which closed in 2008 because of council budget cuts.