Scottish referendum: North east and Northern Isles vote "No"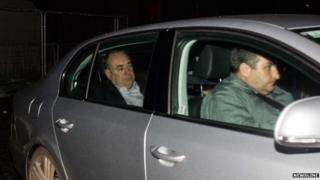 Voters in the north east of Scotland and Northern Isles delivered a "No" vote as Scotland rejected independence in the referendum.
Aberdeen, Aberdeenshire, Moray, Orkney and Shetland all voted to stay in the United Kingdom.
Scotland's First Minister Alex Salmond, who had cast his vote in Strichen, later said in Edinburgh that he accepted the result.
Orkney had the country's most overwhelming "No", at 67.2%.
In Aberdeen, 58.6% - 84,094 - voted "No", against 59,390 for "Yes", a turnout of 81.7%.
Aberdeenshire saw 108,606 (60.4%) vote "No", with 71,337 voting "Yes". The turnout was 87.2%.
Moray, one of the last to declare just after 06:00, had a 57.6% (36,935) "No" vote, against 27,232, and a 85.4% turnout.
Orkney, one of the earlier declarations, had 10,004 "No" voters, and 4,883 for "Yes", with a 83.7% turnout.
The turnout for Shetland was 84.4% as 9,951 people voted "No" - 63.7% - and 5,669 voted "Yes".
---
Ken Banks
North east Scotland reporter
In Aberdeen, many of the Saltire flags which had been in evidence in the run-up to the count were no longer in evidence on Friday morning.
The streets also seemed strangely quiet.
One flag, however, could still be seen flying in Wallfield Place in the city's Rosemount area.
There were also still some "Yes" stickers on windows and lampposts.
The vast wealth associated with the North Sea oil and gas industry was one of the fiercest areas of debate during the referendum campaign.
So it was perhaps ironic there were reports yesterday of offshore workers being unable to fly home to polling day to cast their vote due to weather issues.
However, the north east of Scotland delivered decisive "No" votes so it may have been academic whatever way any such votes would have been cast.
---
Mr Salmond called for national unity.
He said the referendum and the high turnout had been a "triumph for the democratic process".
Robert Collier, chief executive of Aberdeen and Grampian Chamber of Commerce, said: "The debate itself raised awareness of the important part that the north east of Scotland plays in both the Scottish and UK economies.
"Our role is now to ensure that our key sectors remain as important to UK politicians as they were during the referendum debate."
Bertie Armstrong, chief executive of the Scottish Fishermen's Federation, said: "Now that the referendum is over, the Scottish and UK governments need to work together as closely as possible."