Leaflets used in missing Kelli Ferris search in Aberdeen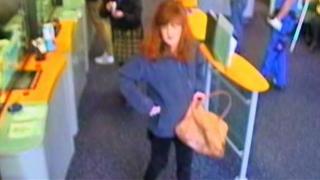 Police searching for a missing Aberdeen woman have been distributing leaflets to homes on bus routes she may have taken.
Kelli Ferris, 40, who has a medical condition, was last seen on Castle Street, near the sheriff court, on the evening of Wednesday 10 September.
It is thought she may have got a number 13 or 15 bus on Union Street.
Addresses at the Beach Boulevard, Links Road, Urquhart Road, Park Road and Park Street are being covered.
Det Supt Mark Cooper, who is leading the enquiry, said: "We think Kelli got on a bus heading for either Seaton or Footdee and we want to speak to people who may use those routes and might have seen Kelli on 10 September.
"She would have been a distinctive person and we are hoping that this will help jog people's memories.
"I would again ask did you see Kelli in this area or on one of these buses three weeks ago? If they did we would urge them to come forward with any information they have.
"The response from members of the public so far has been very supportive but we have still not found Kelli or any of her belongings and we are increasingly concerned for her welfare."