Memorial service held in Fraserburgh for crew of Ocean Way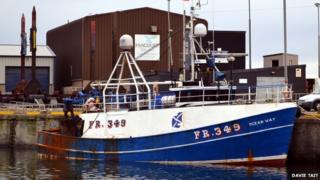 A memorial service has been held in Fraserburgh for three fishermen who died when their boat sank off the coast of Northumberland.
Skipper James Noble, from Newcastle, was found in the water but died later, after the Ocean Way went down 100 miles east of the Farne Islands.
Crewmen Junito Antonio Junior and Michael Pulpul, both from the Philippines, have not been found.
Two other Filipino crew members survived.
An investigation into the cause of the sinking of the Fraserburgh-registered boat on 2 November is under way.