Alex Salmond lookalike sees work dry up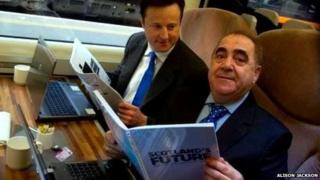 Alex Salmond's departure from his role as Scottish first minister has hit one man especially hard - his lookalike.
John MacLeod, from Blackburn in Aberdeenshire, has seen bookings dry up since Mr Salmond declared he was stepping down.
But he told the BBC's Good Morning Scotland programme he still hoped the work may return.
And Mr MacLeod predicted a work boom for any lookalikes of new First Minister Nicola Sturgeon.
He had been signed up by Susan Scott Lookalikes due to his similarity to Mr Salmond.
Mr MacLeod said: "People would say 'there's Alex Salmond. I have the same face, and everything, same looks. I used to be a skinny lad, and I just put on weight.
"Susan phoned me and asked if I could send some photos. It was ace, really good fun. We did a few stunts."
He has never met Mr Salmond, but thought the former first minister would find it "hilarious" if the two were to meet.
And as for a Nicola Sturgeon lookalike: "Whoever gets her will make money."