Teenager who sparked Shetland firearms incident admits charges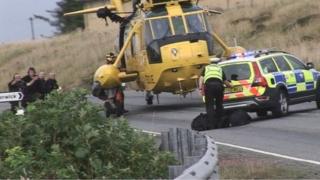 A teenager who sparked a major firearms incident in Shetland has admitted four charges of assault and one of abusive and threatening behaviour.
Samuel Barlow, 16, could have been shot by firearms officers as they closed in on him in September, Lerwick Sheriff Court heard.
Specially-trained officers had been flown to Shetland to support local officers.
Sentence was deferred until January for psychological and psychiatric reports.
An application for bail was refused.
At the time, officers had issued an appeal for the public to remain indoors around the Fogralea, Nederdale, Murrayston and South Road areas of Lerwick.
A male thought to be carrying gun was reported to have been seen leaving a rigid inflatable boat at East Voe in Scalloway.