Inflatable found in Orkney was not from sunken Cemfjord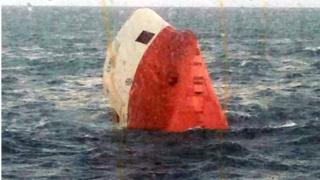 An inflatable boat found washed ashore in Orkney was not from the cargo ship Cemfjord which sank in the Pentland Firth, it has been confirmed.
The bulk carrier was discovered capsized on Saturday, before sinking.
It had a crew of eight - seven Polish nationals and one Filipino.
The search for the missing crew will not resume unless new information comes to light. The vessel Pharos will conduct a scan of the sea bed for the sunken vessel's position.
Operators Brise of Hamburg expressed "great sadness" on Monday that the extensive air and sea search had found no trace of the missing crew.
There had been no distress call from the ship which was carrying a bulk load of cement from Denmark.
The last confirmed sighting of the ship was at about 13:00 on Friday. It is understood the alarm was raised by the crew of the NorthLink ferry Hrossey at 14:30 on Saturday.
The Hrossey, which was sailing to Aberdeen, spent time in the area looking for survivors.
The Cemfjord was built in 1984 and was converted to a specialist cement carrier in 1998.
On this voyage, it was carrying 2,000 tonnes of cement and had been sailing from Aalborg in Denmark to Runcorn in Cheshire. It was due to arrive on Monday.