Aircraft searches for Cemfjord debris in Pentland Firth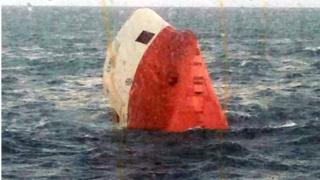 An aircraft has been searching for debris from a cargo ship which sank in the Pentland Firth with eight men on board.
The upturned hull of the Cemfjord - which was carrying cement - was spotted by a passing ferry on Saturday and later sank.
No trace of the crew was found despite an extensive search operation.
The Maritime and Coastguard Agency (MCA) said a fixed wing aircraft was conducting a search.
The Cemfjord crew consisted of seven Polish nationals and one Filipino.