Engines failed on Stonehaven crash aircraft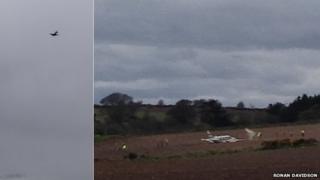 Both engines failed on a light aircraft moments before it crash landed in a field near Stonehaven, an investigation has found.
The Piper Chieftain was on its way from Wick Airport to France en route to a new owner in the Far East last April.
The pilot reported engine problems and changed course to try and land at Aberdeen International Airport.
The Air Accidents Investigation Branch (AAIB) said the pilot landed in a ploughed field west of Stonehaven.
The AAIB found that low oil pressure in the engines may have been the cause of the accident.
The pilot was uninjured.