Craig Grant death: Bouncers given community payback orders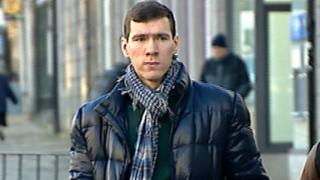 A bouncer who was cleared of murdering a father outside a bar has been given a community payback order for assaulting him.
A jury cleared Jonas Marcius in December of murdering Craig Grant outside the Tonik bar in Aberdeen, but found him guilty of assault.
He was sentenced to 250 hours of unpaid work at the High Court in Edinburgh.
Co-accused Kiel Hauley was told he must carry out 90 hours unpaid work under a community payback order.
Mr Grant, 26, had been on a night out with school friends in Aberdeen in August 2013 when he walked into Tonik alone after being refused entry to another city centre pub.
When Mr Grant fell asleep, Marcius, 23, and Hauley, 33, escorted him from the table to the entrance of the Galleria Shopping Centre.
CCTV footage captured the moment he was assaulted by the bouncers and held on the ground until police arrived.
The court heard Marcius seized Mr Grant, from Inverurie, by the neck and put him in a choke hold, forcing him to the ground.
The door stewards said they believed he was going to hit Mr Hauley and claimed they were both acting in self defence.
Mr Grant's friends found him lying motionless on the pavement "like a teddy bear", with trial witnesses describing how they saw his face turning blue as blood dripped from his mouth.
Police arrived at the scene and initially tried to handcuff him until they realised he was not responding.
Marcius and Hauley were both charged with murder and went on trial at the High Court in Aberdeen along with another colleague, Adrian Morley.
Mr Morley, 33, and Hauley were cleared of the charge midway through the trial. Hauley, of Aberdeen, admitted a lesser charge of attempting to assault Mr Grant by repeatedly punching him on the head.
Marcius was convicted of assaulting Mr Grant by seizing him by the neck and forcing him to the ground, placing him in a neck hold or choke hold and compressing his neck, holding him down on the ground and restricting his breathing.
'Family man'
But an allegation that Marcius had asphyxiated and murdered Mr Grant was rejected by jurors.
Defence lawyer Mark Stewart said Marcius, originally from Lithuania, was a single man who was studying economics and finance and had worked as a door steward part-time.
Judge Lady Wolffe told Marcius he had used a type of hold that was regarded as dangerous and which should never be used.
But she said that, with some hesitation, she had come to the view that imprisonment would not be appropriate or proportionate.
At the time of his death, relatives of Mr Grant described him as a "devoted family man".
They said in a statement: "Craig was at his happiest when spending time with his son Owen and wife Fiona."