Aberdeen's new exhibition centre 'could be cancelled'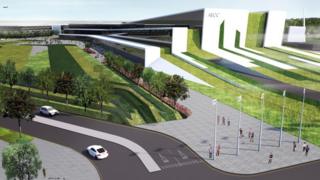 Aberdeen's proposed new exhibition and conference centre could be cancelled if the project does not receive government funding.
Council leaders are looking for financial backing from the Scottish government and Scottish Enterprise.
A decision on whether to go ahead with the £200m development near the airport is due to be taken in March
The project was postponed last year after council officials asked for more time to examine the risks involved
Finance convener Willie Young is calling for answers on how it will be funded before the deadline.
He told Radio Scotland: "Scottish Enterprise have been making positive noises with respect to giving us some income. But they haven't come back and said yes we will or no we won't.
"So we need to put the onus back onto the Scottish government and indeed Scottish Enterprise so they can actually make a decision which will allow us to make a decision on behalf of the council tax payers of Aberdeen."