Cemfjord cargo ship wreck to be surveyed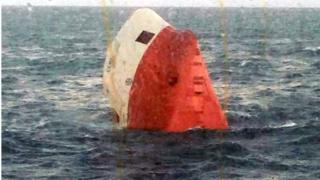 Marine accident investigators are to attempt to send a remotely-operated vehicle (ROV) to survey the wreck of a cargo ship that capsized and sank in the Pentland Firth.
The Cemfjord - which was carrying cement - sank earlier this month.
The bodies of the eight men on board - seven Polish nationals and one Filipino - have never been found.
It is understood the ROV will survey the outside of the wreck at the weekend, if weather allows.
But it will not be looking for, or intending to recover bodies of the crew, which could still be on board.
A memorial service for those who died is take place in Wick this Sunday.