Talks held over future of North Sea oil and gas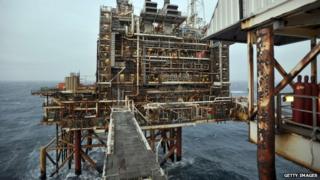 Unions have met North Sea industry leaders to discuss the future of the oil and gas sector in the wake of recent jobs cuts.
BP announced on Thursday that 200 jobs and 100 contractor roles would go after a review of its North Sea operation.
It followed similar announcements from Shell, Chevron and ConocoPhillips in recent months.
The Chancellor, George Osborne, has indicated his budget in March may include measures to help the industry.
Meanwhile, oil and gas services group Schlumberger is shedding 9,000 posts internationally.
A spokeswoman declined to comment on reports that about 100 North Sea jobs could be at risk but said: "Schlumberger is reducing headcount in line with lower activity levels and this is unfortunately impacting our North Sea operations and people."
The price of a barrel of oil has fallen to less than $50 in recent months - less than half its value last summer.
The drop has led to calls for action to prevent further jobs being lost, with Mr Osborne under pressure to scrap a supplementary surcharge on profits that was placed on the industry in 2011.
Industry body Oil and Gas UK described Friday's discussions in Aberdeen as "open and constructive".
Speaking ahead of the meeting, the GMT union's general secretary, Mick Cash, accused oil and gas firms of forcing offshore workers to "bear the brunt of what we see as a complete failure to plan for a downturn like the one we have been plunged into due to the slump in oil prices."
He added: "Instead they have gone for a short-term slash and burn approach that will have long-term implications for the future of the entire industry and the security of the UK's energy supplies.
"RMT, along with our sister unions, is meeting with Oil and Gas UK where we will be pushing for a halt to the job cuts programme and an emergency package of measures to stave off the destruction of both jobs and infrastructure.
"The union is also continuing to lobby politicians for incentives to allow exploration, maintenance, safety and engineering development works to take place during this emergency period for the industry."
The RMT said it had served BP with a maintenance improvement notice which "exposes the inherent dangers of axing staff when a backlog of essential works is being allowed to stack up".
Further damage
UK Energy Secretary Ed Davey announced on Thursday that a commission led by Andy Samuel, the head of the new Oil and Gas Authority, will examine how best to prevent the downturn in oil prices causing further damage to the North Sea industry.
Last Updated at 24 Nov 2017, 19:15 GMT
price
change
%
63.73

+

+0.18

+

+0.28
Mr Samuel has been asked to present his early findings by the end of February - shortly before Mr Osborne unveils his budget.
Mr Osborne has told the BBC that falling oil prices have "helped families" and "cut prices at the petrol pumps".
He added: "Of course that's all very welcome. But there is one part of our country where it's a real challenge and that's the North Sea oil and gas industry which is a really important industry for us.
"That's why this month we have cut taxes in the North Sea and of course, with the budget approaching we're going to look at what more we can do to support investment there."
North Sea oil expert Sir Ian Wood, who led a review of the industry for the government, said a major tax cut was necessary to give producers the confidence to keep their operations going.
He said the supplementary charge on profits should be cut from 30% to 20%, but acknowledged that would have little impact in the short-term because prices were so low.
Sir Ian told BBC Radio 4's Today programme: "The key is to stabilise the industry, avoid a real crisis of confidence and ensure they can see a sustainable future.
"There's virtually nothing, fiscally, that can be done at $45 or $50 oil to have any impact because, at that stage, very few operators are making profits and if they are not, they are not paying taxes.
"What is really important is to look now and set a tax regime and make it absolutely clear it's a medium-term tax regime so it will continue as the oil price recovers."
That would involve "at least a further 10%" off the supplementary charge, he said, adding: "On that basis hopefully operators will have the motivation to be prepared to see their way through what's going to be a very difficult period."
The Scottish government has also called on Westminster to make urgent changes to the tax regime for the oil and gas sector.
Setting out her proposals, First Minister Nicola Sturgeon said: 'We want a general investment allowance that our modelling shows could protect 26,000 jobs every year.
"Secondly, we want a reversal of the increase in the supplementary charge, our modelling shows that could protect up to 5,600 jobs every year.
"Thirdly, we want the UK government to introduce an exploration tax credit, when Norway did that in 2005 their rates of exploration increased four-fold."
Earlier this week, Ms Sturgeon announced the creation of a jobs task force for the industry and a scheme offering financial incentives for employers to take on North Sea apprentices who are facing redundancy.