Faroe Petroleum and Cairn Energy win Norwegian licences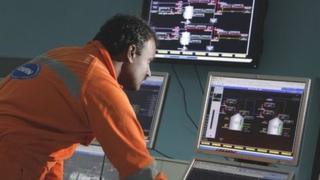 Scottish-based Faroe Petroleum and Cairn Energy have each been awarded a share in five oil and gas production licences in Norwegian waters.
They are close to fields in which both companies already have interests.
Cairn Energy has meanwhile sold off part of the Catcher field in the UK North Sea, to help reduce the scale of its development costs.
The Norwegian licences do not require companies to start drilling.
However, the new round of licences open up a new part of Norway's northern waters, which had previously been disputed with Russia.
Among 23 companies awarded the role of operator in 57 new licence sea blocks and 43 with a share in a licence, the biggest award in this latest round of Norwegian licences is to Statoil, controlled by the government in Oslo.
Other British companies which have been successful in applying are subsidiaries of Centrica (a share in five licences), BG (1), Enquest (2), Ithaca (3), Premier Oil (1) and Tullow Oil (7).
Faroe Petroleum has been awarded the status of operator in one field, and a share in four others.
'Exciting potential'
Three of these are close to the Pil and Bue discoveries already made by the Aberdeen-based explorer. Two others are extensions of existing licences to explore.
Chief executive Graham Stewart commented: "The new licences and licence extensions add exciting potential to the company in Norway and further boost our already significant position in the highly prospective area surrounding our Pil and Bue discoveries.
"Despite the challenges of a low oil price, Faroe remains robust due to its strong, largely unleveraged balance sheet, profitable cash flow from a balanced production portfolio and modest capital commitments.
"This strength, in combination with Norway's progressive and highly successful fiscal incentivisation, ensures Faroe is well placed to continue to grow its position in Norway as a key part of our value creating strategy."
On hold
Through its subsidiary Capricorn Norge, Edinburgh-based Cairn Energy was awarded five licences as a non-operating partner. It said: "These licences do not carry firm well commitments."
In the same announcement, it said it had sold 10% of the Catcher field to Dyas UK, while retaining 20%. The terms of the deal mean it is being paid up to £120m ($182m) to cover past development costs. This means it reduces its forward capital expenditure by around £250m ($380m).
Cairn Energy recently announced its plans for this year focus on drilling off west Africa. Its high-profile and expensive attempts to find oil off the west of Greenland are understood to have been put on hold.
Reuters reported last week that Statoil, French-owned GDF Suez and Danish company Dong Energy have handed back most of their Greenland drilling licences, as further evidence of the impact of lowered oil prices.