Aberdeenshire Council defends icy roads preparation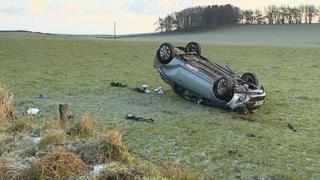 Icy conditions have led to problems for north east commuters after rain was coupled with temperatures dipping overnight into Thursday.
There have been a number of minor accidents and there were long queues on the A96 and A90 into Aberdeen,
Two cars overturned in separate incidents on the A947 and A92.
Aberdeenshire Council said gritters were out from 05:30 and treatment levels were increased above those initially planned.
But it is claimed many already treated routes began refreezing.
Some people on social media likened the conditions to an ice risk.
Snow gates remained closed on the B974 between Banchory and Fettercairn
Safety priority
Two schools in Aberdeenshire were closed due to the conditions of the surrounding roads.
Aberdeenshire Council's Head of Roads, Phillip McKay, said: "Aberdeenshire Council gritters were out pre-treating our 32 primary treatment routes at 15:30 on Wednesday and out again from 05:30.
"However, overnight rain was more extensive than originally expected and, as temperatures remain low, this has led to refreezing of already treated surfaces."
Mr McKay continued: "Due to the prevailing conditions treatments levels were increased this morning from that originally planned.
"The council's road service continues to monitor the weather forecast and is responding to concerns reported to them by members of the public.
Motorists are being advised to plan journeys in advance and prepare for wintry conditions.
The Met Office issued a yellow weather warning for icy conditions across Aberdeen and Aberdeenshire.
Andy Thomson from Bear Scotland said: "It wasn't so much that we were caught out, there certainly seemed to be slightly colder temperatures and obviously there were issues with the A96 and A90 during the morning, but both routes were treated.
"In addition we patrolled both routes from 02:00 through to 10:00 with gritters who do localised treatments in any areas where they think that ice could be forming."
Check out the latest travel news for Scotland
Around the country
For the latest on the roads visit the BBC's travel news page and keep up to date with incidents and roadworks on the motorways here.
Around the country you can check for updates from:
Alternatively, for regular travel bulletins listen live to BBC Radio Scotland and follow @BBCTravelScot.
In times of severe disruption you can also follow the BBC Scotland severe weather Twitter list of key sources.
Below are a number of other traffic information sources.
Other links