Demo over Marischal Square complex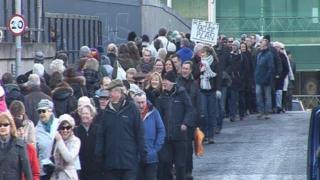 Several hundred protesters have formed a human chain around the site of a controversial development in Aberdeen.
Planning permission was granted in October for the £107m Marischal Square office, retail and hotel project.
Images have recently emerged of the possible scale of the development and protesters fear it will block the view of the historic Marischal College and Provost Skene House.
Developers Muse said it would be a "world-class development".
It will be built on a city centre site created by the demolition of St Nicholas House.
Lorna McHattie, one of the protesters, said: "It's quite easy to get someone to electronically sign a petition, so the turnout shows that people do care.
"You get that emotional coming together that shows a lot of people think along the same lines."
She added: "I don't want the overly-massed, high, built-up images that we're seeing from Muse.
"I'm not so clear on exactly what else I want, but certainly greenery, being able to see Provost Skene House and to enjoy it."
Muse's regional director for Scotland, Steve Turner, said: "It is unfortunate and disappointing that the poor quality, unauthorised and spurious images released earlier this month have caused alarm and concern around the Marischal Square development."
He said that Marischal Square would show "considerable respect to the city's granite tradition as well as the undeniable beauty and artistry of the Marischal College building and the warm public affection for Provost Skene's House".
Mr Turner: "The public made those views very clear to us throughout the project consultation phase and we and Aberdeen City Council have made a number of alterations to the original drawings and plans to reflect that."
He said construction work on the project would begin in March and further images of the full development would be available in April.
He said the development would create 300 jobs during the construction phase, with 1,500 jobs available when the development of Grade 'A' office space, the Residence Inn by Marriot hotel and the bar/restaurant space was fully completed and occupied in 2017.