Orkney wildlife photography book snaps up award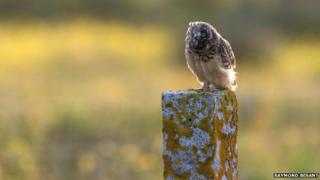 A book about Orkney's wildlife has won a Scottish Nature Photography Awards accolade.
Raymond Besant's Naturally Orkney, published by The Orcadian, won the Favourite Scottish Nature Photography Book of 2014 prize.
He was born and raised in the islands, and said he was "humbled".
The photographer said: "I loved working on the images, and bringing Orkney's wildlife to a wider audience so they can enjoy it too."
James Miller, of The Orcadian, said: "When we first started working on the book and he submitted the early photographs, it was crystal clear that this was a highly skilled craftsman at work.
"The standard of entry for this award was extremely high but there can only be one winner. As a small, parochial publisher we are delighted it is us."
The Scottish Nature Photography Awards said it had received more votes than ever before.