Did council officials give wrong advice over Marischal Square row?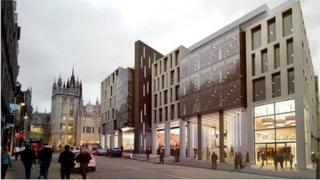 For two weeks, Aberdeen City Council finance convenor Willie Young's declaration stood: "Abandoning the (Marischal Square) project would mean the council tax payer requiring to repay the developers over £100m in cancellation fees".
It came as protests grew over the scale of the project, amid fears it would block the view of the historic Marischal College and Provost Skene House.
However, on Monday, BBC Scotland revealed there were no cancellation fees for the £107m project between Aberdeen City Council and Muse Developments.
That begged the question why, on 11 January, did Mr Young say there was?
Mr Young was unrepentant. He told BBC Radio Scotland: "I absolutely stand by that because at the time that was said it was my understanding that we, the council, were still the owners of the property."
'It's unfortunate'
It was pointed out that ownership had transferred to Muse Developments at the end of last year, and before he made his statement about cancellation fees.
He added: "It's unfortunate when I said that I wasn't in possession of all of the facts. As far as I'm concerned having spoken to our officers that was exactly the position that I was advised."
So did Aberdeen City Council officers - the accountants and finance experts employed by the authority - wrongly advise Councillor Young?
Privately, BBC Scotland understands officials are not at all happy with his claim that he was acting on their advice.
But officially, and despite repeated attempts for a comment on that specific issue, this was the only response from Aberdeen City Council.
"The city would potentially lose out to the tune of more than £100m if the scheme were not to proceed.
"The city will receive £10m for the site - £1m now and a further £9m on completion in two years, an equal share of the development profit, the difference between the lease cost to Aviva and the income generated by the development for 35 years and the value of the development in 35 years' time.
"Sums are also available for works to upgrade Provost Skene's House, Broad Street and to create the gardens and other public areas within the scheme."
'Pass the buck'
The SNP group leader on Aberdeen City Council, Callum McCaig, said: "I don't know why he can stand by an assertion that has been proven to be completely and utterly wrong.
"The response from Councillor Young is as always to pass the buck. This time he is passing it on to council officers who are completely blameless.
"I have no doubts that Councillor Young was explained in some detail the consequences of cancelling Marischal Square, it's just when he opened his mouth to regurgitate it, he got it completely and utterly wrong."
Ian Yuill, leader of the Lib Dem group on the authority, said: "It's Councillor Young's job to check the facts and he should just man-up and admit that."