Aberdeen bank worker Satnam Kaur to pay back £1 from stolen £120,000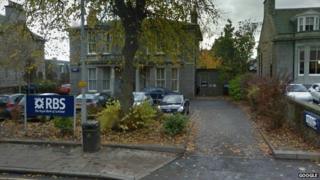 A former bank worker who stole £120,000 from a client has been ordered to pay back just £1 because she has no assets.
Satnam Kaur, 31, was working as a customer advisor at the Royal Bank of Scotland branch in Albyn Place, Aberdeen, when she took the money.
She transferred large sums home to India.
Kaur was jailed for a year at Aberdeen Sheriff Court last year after being found guilty.
The court has now heard that the Crown Office and Indian authorities failed to find any money after a lengthy investigation.
'Nominal order'
Kaur, who is currently awaiting deportation, was told to pay back £1.
A Crown Office spokesman: "When an accused has no available assets at the time a confiscation case is settled, a nominal order for £1 is made against them.
"This measure ensures that the Crown can confiscate any assets traced in the future, up to the total amount they made from their criminal activity.
"It can in effect be a financial life sentence, ensuring those who benefited from crime in the past cannot accrue any assets until the money they made is repaid.
"In this case, the Crown is pursuing assets internationally and, with the assistance of criminal justice partners both in the UK and abroad, is seeking to identify the final source of the laundered funds with a view to recovering the full sum."