Calls for £2bn Aberdeen city deal to secure oil and gas future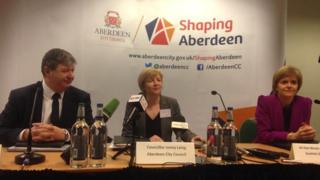 Politicians in Aberdeen have used an oil and gas summit to urge ministers to back a £2bn finance deal for the city.
Aberdeen City Council leader, Jenny Laing, wants a combination of government grants and borrowing powers to secure the region's economic future.
She said that for too long Scotland's oil and gas sector had been seen as a "cash cow" and with the fall in oil prices it was now time for "pay back".
First Minister Nicola Sturgeon said she would look at the plan.
She told BBC Radio Scotland's Good Morning Scotland programme that her officials were already in discussion about the city council's proposals and she was "keen to continue to take that forward".
Ms Sturgeon added: "Hopefully today one of the outcomes of this summit will be an agreement between ourselves, the UK government, the city council, and of course Aberdeenshire Council - who have an involvement in this as well."
The summit - organised by Aberdeen City Council - was attended by local and national politicians as well as industry and union representatives.
Ms Sturgeon and the UK government's Scottish Secretary Alistair Carmichael were among the participants.
The get-together was called amid warnings the industry was in crisis.
A barrel of Brent crude has more than halved in price since its peak of $115 last summer. On Friday it was standing at less than $53 a barrel.
Long-term
The UK Treasury said it was working with industry leaders "as a matter of priority" to address the challenges the industry faces.
Mr Carmichael said: "I am a strong advocate of the UK government's programme of City and Growth Deals. They are a great initiative for unleashing growth and opportunity.
"It takes a great deal of work to develop a proposal that works for everyone involved. Government at all levels must work together with industry to deliver for the people who live and work in a city region.
"I know that Aberdeen City Council and others have been putting in a lot of effort to prepare for further discussions with us on this, and I am looking forward to hearing more about their detailed proposals on Monday."
Labour councillor Ms Laing, the council's leader, said: "I think we have to bear in mind the numbers of jobs that are connected with the oil industry - 450,000 throughout the UK.
"We also have to accept the amount of money that is brought back into the Treasury as a result of this industry.
"I think its only right and proper that we look at ways in which to sustain that for the long-term future for those employed in the industry, and also regions like ours that are extremely dependent on them for our buoyancy."
In August last year, Glasgow City Council and a number of neighbouring authorities entered into an agreement with the Holyrood and Westminster governments which would results in the funding of major infrastructure projects.
The deal involved the UK and Scottish governments each giving £500m in grant funding and a further £130m being raised by the local councils in the region.
Ms Laing is hopeful a similar deal can be done for the city of Aberdeen and Aberdeenshire.
The summit heard Industry body Oil and Gas UK call for "meaningful action" from government in order to tackle major challenges facing North Sea operators.
Chief executive Malcolm Webb believes "an unpredictable and harmful business environment" has put the sector "at great risk".
The body wants urgent tax cuts amid falling oil prices and rising costs.
It also wants a new oil and gas regulator in place as soon as possible.