Footage shows Aberdeen driver 'with phone and laptop'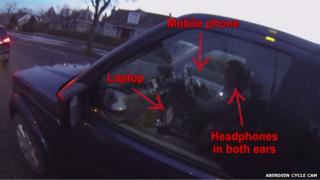 A video showing a motorist in Aberdeen apparently driving with headphones on, using a handheld mobile phone and a laptop on is being investigated by police.
The video - shot by a cyclist using a helmet-mounted camera - was posted on a video sharing site on Thursday.
It appeared to show the driver of a blue Land Rover Discovery on the city's Queen's Road.
Police Scotland said officers were following a positive line of inquiry.