New image of Aberdeen Marischal Square plan released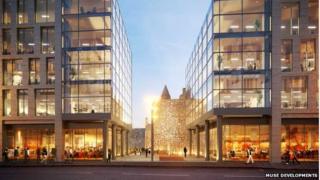 A new image of the planned Marischal Square development in Aberdeen has been released.
Muse - granted planning permission for the £107m hotel, office and retail project last year - said it showed the planned view from Broad Street of historic Provost Skene House.
Protesters fear it will block the view of Provost Skene House and iconic Marischal College.
A public demonstration is planned this weekend.
Steve Turner, regional director for Scotland at Muse Developments, said: "There has been an extremely encouraging reaction to the Marischal Square development from a number of leading businesses seeking to establish a presence in Aberdeen for the first time.
"We believe Marischal Square is a fantastic business location which will bring forward the much needed regeneration of this part of Aberdeen, with Marischal College at its heart."
Lorna McHattie, of the Reject Marischal Square campaign, told BBC Scotland she was pleased more of Provost Skene House was visible in the new image, but that the overall development was still too high and too dense.
Campaigners against the development released their own new images earlier this week.
A previous protest saw several hundred protesters form a human chain around the site.
An MSP called for an investigation last month into whether the public has been "misled" about aspects of the Marischal Square plans.
Council finance convenor Willie Young claimed pulling out could have cost the authority £100m in cancellation fees. The council later said there would be no such financial penalty.
Aberdeen won the unwanted title of the most dismal town in Scotland earlier this month,
Urban Realm magazine said it had become the "poor relation" of Scotland's cities as it awarded the annual Plook on the Plinth Carbuncle award.