Aberdeen crash leaves two seriously injured as car bursts into flames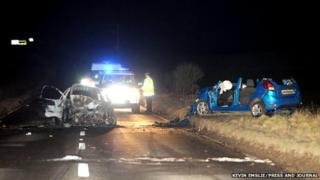 Two people have been seriously injured in a crash involving two cars, one of which burst into flames.
The drivers of both vehicles - a 19-year-old man and a 22-year-old woman - suffered what have been described as potentially life-threatening injuries.
The accident happened on the B979 stretch of South Deeside Road, south west of Aberdeen, on Tuesday night.
The Scottish Fire and Rescue Service said a passer-by helped the man from the car which caught fire.
The road remained closed on Wednesday morning as investigations into the collision were carried out.
Police said the crash happened about 200m west of the Deeside Holiday Park, near Peterculter bridge.
It involved a blue Ford Fiesta and a Ford Ka, which caught fire and was completely burnt out as a result of the collision.
The man from the Ford Ka and the woman from the Ford Fiesta were both taken by ambulance to Aberdeen Royal Infirmary.
There were no passengers in either of the vehicles and no-one else was hurt.
Police Scotland are keen to speak to anyone who may have witnessed the collision or seen the vehicles prior to the collision taking place.