Fire crews tackle blaze at church in Hatton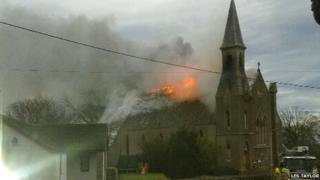 More than 30 firefighters tackled a major blaze at a derelict church in Aberdeenshire.
Crews were called to the incident just after 07:30 in Hatton, near Peterhead.
No-one was believed to have been injured in the fire.
Did you take any pictures - still or moving - of this fire? Send them to the BBC Scotland news website at newsonlinescotland@bbc.co.uk
Please ensure when filming or photographing an incident that you make your safety and the safety of others a priority.
If you submit an image, you do so in accordance with the BBC's Terms and Conditions.