Motion blocked over Aberdeen Marischal Square project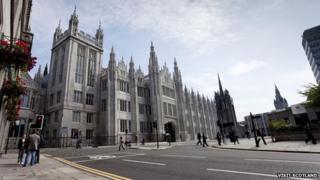 Aberdeen's controversial Marischal Square development will not come before councillors again next month, after Lord Provost George Adam blocked a motion on the project
The SNP group had tabled an emergency motion to get the £107m plans back on the agenda.
Developers Muse are behind the hotel, office and retail project.
Opponents argued it would block the view of historic Marischal College and Provost Skene House.
The SNP motion included a call for officers to report on the legal and financial implications of withdrawing from the contract, and cross-party talks with Muse on a redesign, with increased public space.
The Lord Provost said: "The reason for the requirement for the referral of a motion to the appropriate director for consultation prior to its submission is to allow full council to be appraised of all the legal, financial, regulatory and planning aspects of motions.
"This is particularly crucial where motions could have a significant impact on the city."
Demonstration
About 1,000 people were estimated to have taken part in a second public demonstration against the proposals at the weekend.
Planning permission for the project was granted last year.
Muse said it would be a "world-class development".
It would be built on a city centre site created by the demolition of the former St Nicholas House council headquarters.
On Friday, Muse released a new image which showed the planned view from Broad Street of Provost Skene House.
Earlier in the week campaigners against the project had released their own new images.