Staff and students abused over RGU mental health masks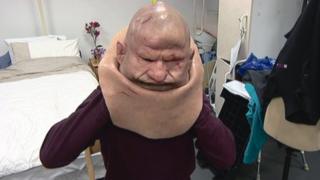 Staff and students who took part in a training course involving tutors wearing prosthetic masks to portray people with mental health problems have received abuse.
Aberdeen's Robert Gordon University stopped using the life-like prosthetic masks amid claims they could add to stigmatisation.
The masks were worn by tutors in a bid to make teaching more realistic.
One person involved in the course was confronted by a member of the public.
Other participants have been abused online.
The head of the nursing school at RGU, Prof Ian Murray, is writing to the Scottish government and mental health organisation See Me to discuss the best way forward.