Baby Alexis Matheson murder: No fatal accident inquiry to be held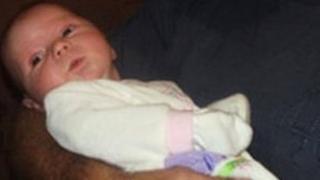 A fatal accident inquiry will not be held after a man was convicted of murdering a six-week-old baby in Aberdeen, the BBC Scotland news website has learned.
Mark Simpson was jailed for a minimum of 20 years for killing his then-girlfriend's daughter Alexis Matheson by assaulting her in 2007.
Simpson had lived with the baby's mother Ilona Sheach.
The Crown Office said an FAI would not be held.
Simpson was found guilty in November 2010 of the murder of baby Alexis by shaking her to death, having denied murder by assaulting her between 18 November and 9 December 2007.
A Crown Office spokesman said: "The decision was made following discussions with Alexis' family.
"The purpose of a fatal accident inquiry is to determine the cause of death and establish what lessons can be learned for the future.
"Crown Counsel are satisfied that the reasons for the death have already been established through the criminal prosecution process."
'Now been shared'
The spokesman added: "Following that the health board ordered a Significant Case Review be undertaken by a retired English High Court Judge.
"Judge Llewellyn's comprehensive review of the case has now been published. The review identified a number of learning points for general practice, across Scotland.
"Experts in the Crown Office's Scottish Fatalities Investigation Unit sought assurances from the NHS that the recommendations in the review would be implemented.
"We are satisfied that the information has now been shared across the NHS in Scotland.
"Crown Counsel have concluded that any recommendation which might have been made in terms of Section 6 of the Sudden Deaths and Fatal Accident Inquiry (Scotland) Act 1976 have already been addressed by these actions."
Sheriff Annella Cowan had said almost a year ago at a hearing that the objectives laid out in the inquiry application had already been covered in an independent case review already carried out.